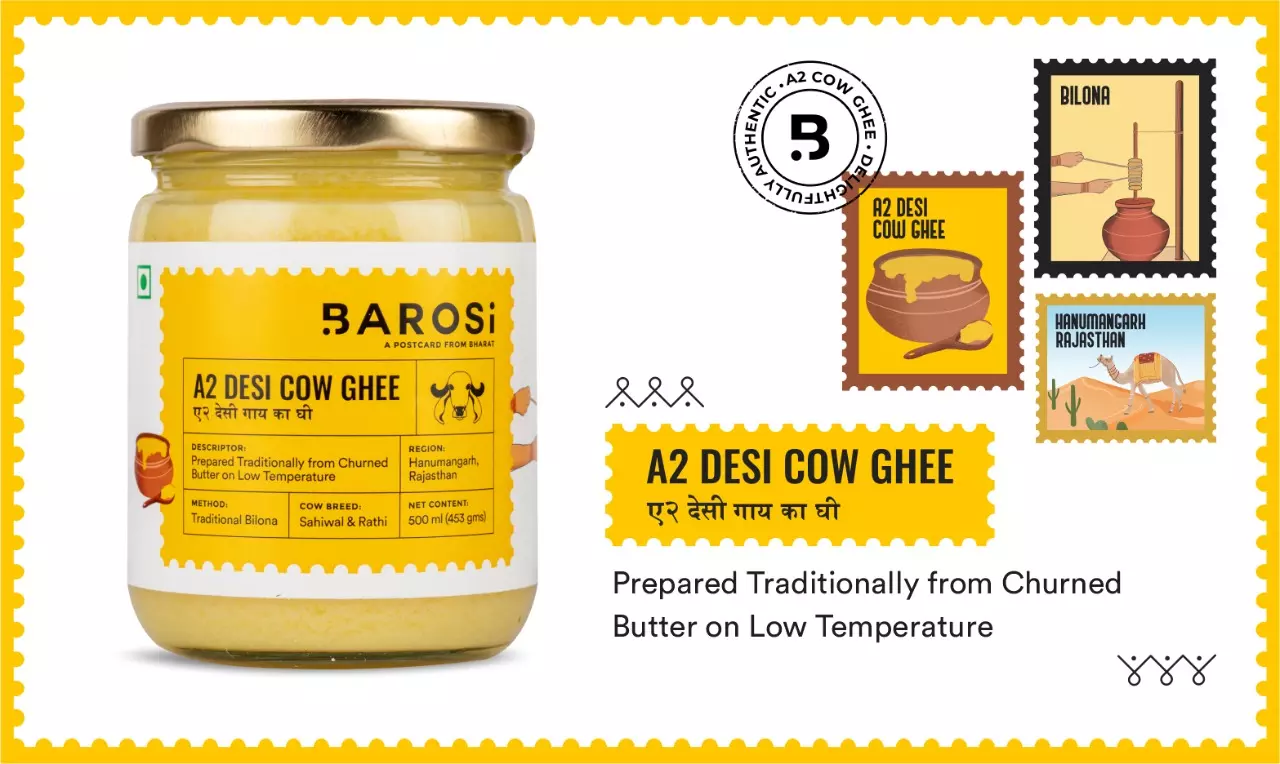 Item Quantity :
2 x 500 ml
Ghee - this timeless goodness from times ancient, lending the most magnificent aroma and taste to everything it graces, not to mention it's abundant health benefits. This culinary gold, truly is purified by fire. The Barosi Ghee, very simply put, is cooked cow milk butter. It goes through an extremely slow cooking process which removes carbohydrates, proteins, casein, lactose, water and impurities - leaving behind pure golden fat. And one of the most body friendly fats at that, as it does not contain any trans-fatty acids. We make ghee from natural milk using the traditional "Bilona" method. It's the perfect healthy addition to any kitchen, giving every meal an extra dose of nutrition & taste. No matter where we are, with each bite of the Barosi Ghee, we get a whiff of the crisp farm air.
Prepared traditionally with love, from churned butter derived from Sahiwal & Rathi Desi cow's milk; Barosi's pure A2 Desi Cow Ghee is nutritious, natural and aromatic. 100% chemical and preservative free, this ghee is a powerhouse of goodness, enriched with omega-3 fatty acids and other essential good fats. Authentic, unadulterated and wholesome, your getaway to a healthy heart and bone structure.
* A2 Desi Cow Ghee is rich in antioxidants which improve body immunity
* A2 Desi Cow Ghee helps in better brain functioning and memory improvement, strengthens heart, increases bone density, improves skin glow, helps with hair strength, improves digestion and weight management, improves vision and also helps in slowing down ageing process.